Embracing Gritty: Executive in Residence Brian Jennings
By: Hannah Eadie
First Published: May 17, 2019
Topics: Industry Partnerships, Sport, STHM School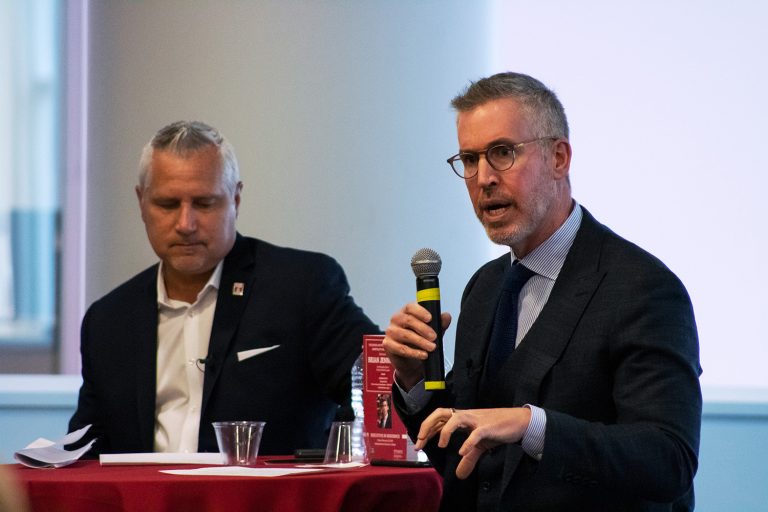 On February 22, we had the honor of hosting our first Executive in Residence of the spring semester. This speaker series has been a great asset to our students here at the School of Sport, Tourism and Hospitality Management (STHM), and we were honored to welcome Brian Jennings, Chief Branding Officer of the National Hockey League (NHL). George Dudas, alumnus of our Executive Master of Science in Sport Business program and Director of Business Development and Global Partnerships for the NHL moderated the event.
One of the many things Jennings shared during his visit was the importance of the NHL's outdoor games, such as the Winter Classic and the Stadium Series. The whole strategy behind these games was to encourage hockey fans to get outside of their typical behavior and watch teams beyond their local favorites, bringing a deeper sense of fun and community. This topic was fitting, because later that weekend the Philadelphia Flyers would face off against the Pittsburgh Penguins at the Lincoln Financial Field–which was turned into an ice rink for the event. After the speaking engagement, two tickets to the game were raffled off to students in attendance.
During his talk, Jennings also shared his story of the 48 hours following the moment that NHL sensation Gritty came alive. In September 2018, NHL team The Philadelphia Flyers announced a new, unexpected mascot named Gritty that later became an internet sensation. STHM's very own alumnus and Vice President of Marketing for the Flyers, Joe Heller, played an integral part in Gritty's creation.
"I checked social media to see that Gritty was being obliterated. They were saying 'heads will roll in the Flyers Marketing Department,' " Jennings explained. "And, I'm sitting there scrolling through my feed, and I didn't see one positive thing."
Then, a tweet poking fun at the mascot from Flyers' rival the Pittsburgh Penguins changed everything.  Flyers fans began to change their position, defending and supporting their new mascot.
"It is the embodiment of Philadelphia," said Jennings. "It's everything you wouldn't want, and they did it anyway. So when they released Gritty and everyone started criticizing it, in typical Philly fashion, the fans said 'You can criticize him, but he's one of ours now. And we'll fight back.' "
Jennings ended his talk discussing the NHL's social cause, which was inspired by Ed Snyder. Jennings hopes with programs such as this hockey will become a more accepting and welcoming atmosphere for women, people of color and the LGBTQ+ community. Hear more of Brian Jennings' message of diversity in hockey on our YouTube channel.
A great kick-off to the spring Executive in Residence series, Jenning's speech on diversity, respect for roots, and passion for sport emphasizes STHM's core values, which our students and alumni in sport represent every day.
For more news and stories, follow us on Facebook, Instagram, Twitter and Linkedin