Madison Square Garden execs share lessons, laughs at Executive in Residence panel
By: Courtney Kubitza
First Published: December 13, 2013
Topics: In the News, Industry Partnerships, STHM School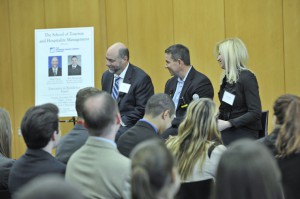 Ron Skotarczak and Mark Piazza are both Philly guys. Both are sport management executives and both have professional experience with local teams, Skotarczak with the 76ers and Eagles, and Piazza with the Sixers and Flyers.
Now they're in New York City, one of the fiercest of Philadelphia's sports rivals. "My parents still don't talk to me," Skotarczak joked about his defection to the Big Apple after being raised in Philadelphia's Port Richmond section.
Without missing a beat, Piazza quipped: "No one talks to you."
That exchange, which drew rounds of laughter from an audience of 150 students, faculty, and staff, was indicative of the light-hearted but informative mood of a recent Executive in Residence Panel hosted by the School of Tourism and Hospitality Management (STHM).
The Nov. 19 event in Alter Hall highlighted Piazza's position as senior vice president of sports team operations for the Madison Square Garden (MSG) Company. In that role, Piazza oversees revenue management, scheduling, travel and other aspects for the New York Knicks, Liberty (of the WNBA) and Rangers. MSG also oversees the Hartford Wolf Pack, the Rangers' AHL affiliate.
As executive vice president of marketing partnerships, Skotarczak leads MSG's sales and service organization. This includes developing, managing and implementing the company's overall sales strategy and initiatives within the marketing partnership sales and service groups, including integrated sales, team sales, entertainment sales and sports property sales.
Or in Skotarczak's words: "My team makes the money. Mark's team spends the money."
The Madison Square Garden Company is comprised of three business segments: MSG Sports, MSG Media and MSG Entertainment. Working in New York for a company that operates three fully integrated business segments and seven venues nationwide – including, of course, the Garden in Manhattan and the newly renovated Forum in Los Angeles – comes with pressure. But if their panel discussion is an indication of their professional approaches, Skotarczak and Piazza attribute their success to the basics.
Piazza advised that STHM students work hard, remain honest and trust their instincts. Skotarczak shared similar advice through the mission statement of the 70-person team he oversees: "Be great every day through transparency and integrity."
Skotarczak also preached passion. Since we all spend about a third of our lives at work, "make sure you do something you love and are passionate about," he said.
Rhea Hughes, a Temple alumna who hosts the Sportsradio 94 WIP Morning Show and Lunch Break on CSNPhilly.com, moderated the discussion. Hughes is a staple in the Philadelphia sports world – having served as a producer, engineer, play-by-play announcer and sideline reporter – and Sportsradio 94 WIP is consistently regarded as one of the best sports radio stations in America. Piazza is also a Temple graduate.
In opening the event, Associate Dean Elizabeth H. Barber said the school's relationship with MSG is a prime example of STHM's strong partnerships that extend beyond Greater Philadelphia. Seven STHM alumni work at MSG, and the company hosts eight to 10 interns each semester.
"That's how you build a partnership, with years of hard work and consistency in the quality of what we do here," Barber said.