STHM Partners Support Student Success
By: Jamie Cann
First Published: October 10, 2018
Topics: STHM School
Two notable Philadelphia organizations in the tourism and hospitality industry, the PHL Diversity sector of the Philadelphia Convention & Visitors Bureau and the Greater Philadelphia Hotel Association (GPHA), recently awarded scholarships to students of the School of Sport, Tourism and Hospitality (STHM).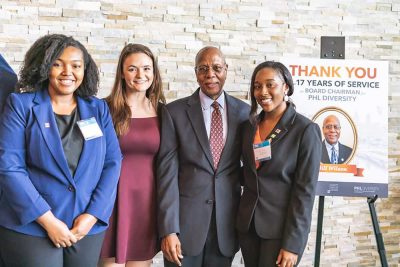 The William Wilson Scholarship
PHL Diversity established a scholarship in honor of Executive Board Member William Wilson's retirement. The scholarship was created for STHM students in recognition of Wilson's work and dedication to the industry and STHM. Chelsea Butler, Shyanne Gaston and Elizabeth Mignano, members of STHM chapter of the National Society of Minorities in Hospitality, were awarded the William Wilson Scholarship during a PHL Diversity Advisory Board Meeting and surprise reception for Wilson last month.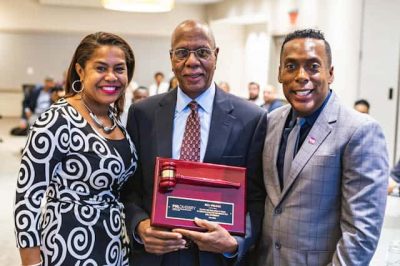 Wilson has been an Executive Board Member of PHL Diversity for 17 years and served on STHM's Dean Council for many years. We're privileged he's chosen to work with us and are thankful for all of the work he's put into enhancing the STHM and overall Philadelphia tourism and hospitality community.
The Michael M. Boyle Scholarship
Every year, the GPHA hosts an awards luncheon acknowledging organizations and groups who bring tourism to the city of Philadelphia. During this year's luncheon, GPHA awarded scholarships in honor of Michael M. Boyle, former president of GPHA, noted as a "key figure in reviving Philadelphia's Hospitality industry". Established in 2001, the scholarship honors Boyle for his many contributions in helping to revive Philadelphia's hospitality industry.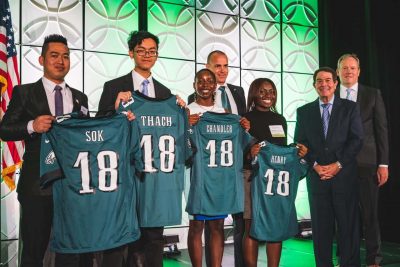 STHM seniors, Vanessa Chandler and Rachel Henry, received the 2018 Michael M. Boyle Scholarship during the event. During the event, GPHA also recognized the 2018 Super Bowl LII Champions, the Philadelphia Eagles, for the enormous amount of pride and tourism they brought to the city this past year. In addition to the scholarship, Chandler and Henry were surprised with a custom Eagles' jersey from the team during the event.
Thank you to the generosity of our donors in supporting the future success of our students.
For more news and stories, follow STHM on Facebook, Instagram, Twitter, and Linkedin.