Hotel founder discusses forays into entertainment, sport-team ownership as STHM Executive in Residence
By: Courtney Kubitza
First Published: March 29, 2016
Topics: In the News, Industry Partnerships, STHM School
Sheila Johnson has always been an entrepreneur. As a child, she went door-to-door selling handmade potholders. Today, she's a successful, renowned businesswoman.
The founder and CEO of Salamander Hotels & Resorts, Johnson detailed her beginnings in the arts and entertainment industry to her breakthrough in the sport management and hospitality fields as a part of the School of Tourism and Hospitality Management (STHM) Executive in Residence series. The series welcomes accomplished and veteran business executives to share their experiences with Temple University students interested in the tourism, hospitality, sport, and recreation management fields.
Johnson began her career as a concert violinist in the nation's capital, where she launched her first entrepreneurial venture teaching private violin lessons. It was during this time that she and then-husband, Robert Johnson, co-founded Black Entertainment Television (BET). The network premiered January 1979.
"We started BET because the African-American voice wasn't being noticed," Johnson said during her March 16 visit. "It was kind of a fluke, but it was a lesson in life and a great journey."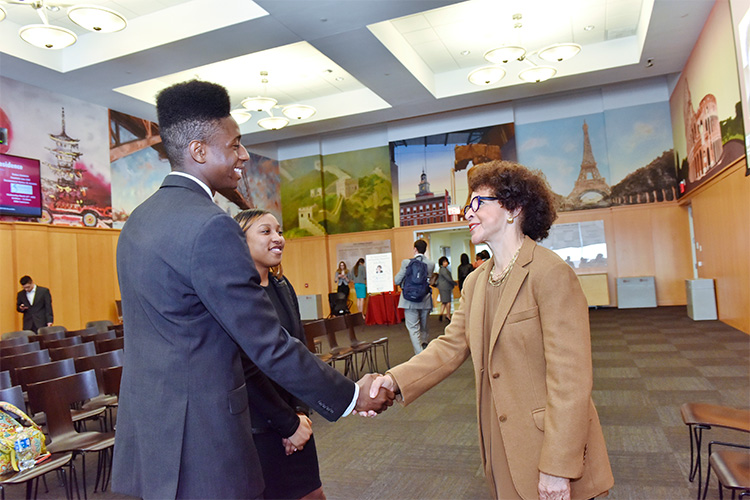 It was through Johnson's beginnings in arts and entertainment that she was catapulted into the sport management and hospitality industries. Following the 2001 sale of BET to Viacom for $2.3 billion, Johnson – eager to redefine her professional purpose – set her sights on opening a hotel company.
Salamander Hotels & Resorts launched in 2005 and, in August 2013, Johnson opened the company's flagship property, Salamander Resort & Spa, in Middleburg, Va. In between those dates, Johnson was establishing her brand portfolio to include three resorts in Florida: Innisbrook in Tampa Bay, Reunion Orlando, and Hammock Beach in Palm Coast. The company's newest Florida addition, Henderson Beach Resort in Destin, opens this summer. Each location boasts luxurious lodgings, authentic dining, numerous event locations, and spa and fitness services, and Johnson expects to soon announce Salamander's entry into new destinations.
Though now a flourishing empire, the company suffered rocky beginnings in historic Middleburg, Johnson said.
"When I set out to build this resort, I misunderstood how strong some of the opposition would be," Johnson said. "It was just the beginning of a very long and contentious fight."
Signs went up in town calling her the "Cable Czar," and gossip pages and online bulletin boards wrote negatively about Johnson. But an undaunted Johnson moved forward and broke ground on the resort. Since opening, the resort has welcomed the star-studded Middleburg Film Festival, and the town's economy has increased as the hotel has hosted events that have drawn large numbers of occupants.
Despite her success, Johnson admits to knowing little about the hospitality industry when she first began. She remedied that problem by hiring and learning from those who did. She considers all of her employees as mentors and is devoted to their professional and personal growth.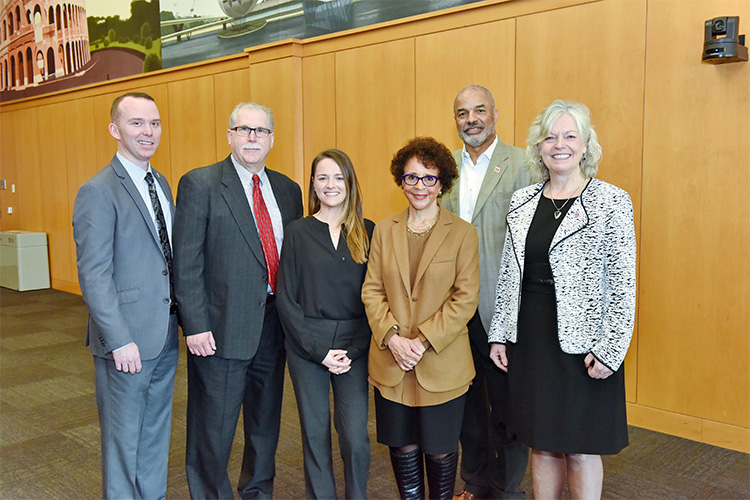 "It's important to start building leaders in the hospitality community. It's been so isolated and often works in silos," Johnson said. "We've got to be more collaborative and inspire the younger generation to join this business."
Reaching outside the hospitality industry, Johnson entered the sport management field when she became a partner in Monumental Sports & Entertainment, which owns the NBA's Washington Wizards, the NHL's Washington Capitals, and the WNBA's Washington Mystics, and subsequently helped break the glass ceiling in the male-dominated sports industry.
"You're probably wondering how this woman got into sports because it's an old-boy's club," Johnson said to the audience.
Her answer? Knowing her worth. Johnson said there were dark times when she made mistakes both personally and professionally, but it was recognizing what she had to offer in any situation that allowed her to learn from errors and continue to thrive.
Currently working to expand her hotel business as well as continue to successfully support the Washington-area sports market, Johnson said her eyes remain steadily focused on growth.
"I have such a passion for this industry," Johnson said. "I'm trying to get my voice out there to help others so no one evaporates into the background."