Hot Shot
By: Jamie Cann
First Published: May 17, 2017
Topics: Connections, Feature Story, STHM School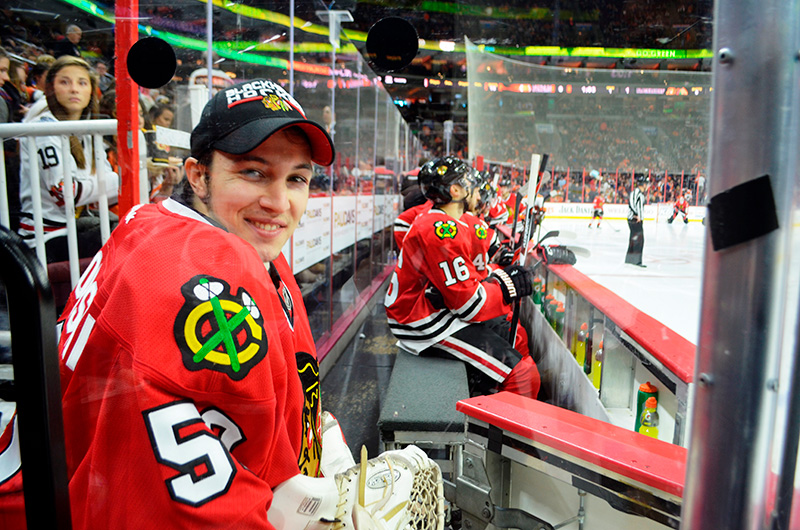 Semborski was managing simultaneous youth hockey camps at the Flyers SkateZone in Voorhees, N.J., on a routine Saturday morning. That's when the 23-year-old was told to drop everything and jump in his truck. He had two hours to cover 40 miles — first to his home in the Manayunk section of Philadelphia, and finally to an arena in South Philly.
Semborski's improbable career trajectory led him from club hockey at Temple University to the visiting locker room at Wells Fargo Center, where he would become the emergency backup goaltender for the NHL's Chicago Blackhawks.
"It was unreal in the moment, and sometimes, it still feels like I haven't fully processed it," said Semborski, BS '15, who studied Sport and Recreation Management at STHM.
In the National Hockey League, clubs can sign amateur players to tryout contracts to fill a roster void amid extreme circumstances. The Blackhawks required a backup goalie for their Dec. 3 game against the Philadelphia Flyers after it was determined that their starter, Corey Crawford, would need an emergency appendectomy. Withy Scott Darling, the team's second-stringer, pressed into action, Chicago would need an emergency backup in uniform for their 1 p.m. game.
The Blackhawks asked the Flyers to supply a list of locally based goalies — and Semborski's name was on that list.
Semborski had skated off the ice in Voorhees when he took a call from a phone number with a Chicago area code. Tony Ommen, the Blackhawks' senior director of team services, delivered the good news that Semborski would sign a one-day amateur contract. The team followed soon after with tweets about Semborski and a link to his official playing-career biography.
Once-in-a-lifetime moment? Not for Semborski. When a Flyers goalie collapsed on the ice during a April 1 game, the team rushed Semborski into uniform. He sat on the Flyers' bench during their 3-0 win over New Jersey.
On his opportunity with the Blackhawks: "I drove so fast to get there, but it was worth it," Semborski said. "When you sit on a team's bench, and you're that close to world-class players, that's when you appreciate how big and fast and strong they are. I had the chance to feel the shots they were taking against me in warm-ups, and they're easily the best shots and the quickest releases I've ever seen.
"I got a chance to stop (Blackhawks star) Patrick Kane. That was a lot of fun."
Everything transpired so rapidly that only Semborski's sister, Sara, could be in attendance. Neither Semborski's parents, who live in Bloomsburg, Pa., nor his wife, Kaitlyn, could make it to the game. Though Semborski never got onto the ice during game time, his story circulated hockey circles far and wide. He said his "phone was going crazy," due to the volume of text messages he received from colleagues and former teammates.
"I called my dad as soon as I found out, and he couldn't believe me," Semborski said. "It was his birthday, and he was settling in to watch the Temple (conference championship) football game, and I said, 'Don't watch that game. Watch your son play in the NHL.'"
By rule, an NHL team cannot compensate amateur players who are signed to tryout contracts. A week later, the Blackhawks invited Semborski and his wife to Chicago's United Center for their Dec. 11 home game. Semborski received celebrity treatment. He conducted a TV interview, enjoyed a tour of the team's locker room, and met with Crawford, the team's regular starting goalie, and Chicago coach Joel Quenneville.
Semborski's life is rooted in hockey, though he only started playing the game when he was 15 years old. He considers a visit to New York's Madison Square Garden with his STHM Senior Seminar classmates as "one of my favorite Temple memories," he said. He later interned with the Flyers in a client communications and customer service function.
Today, Semborski is a hockey programs coordinator at Flyers SkateZone, and a coach with Snider Hockey.
"Eric became famous because of his opportunity with the Blackhawks, but it's more valuable to us that he played at Temple University," said Jan Koziara, vice president of programs with Snider Hockey, which uses the sport as the platform to educate
and provide opportunities for underserved youths.
"Our players aren't always familiar with the college application process, or financial aid. We encourage our coaches to wear their college gear around the rink, as an opportunity to start a 1-on-1 conversation about the next step. That's where Eric has been integral with our players."
"And it couldn't have happened to a better person," said Ryan McCanney, coordinator of hockey operations with Snider Hockey. "When he's on the ice, he's a terrific communicator with the kids. He's humble, too. You'll never hear him brag about playing with the Blackhawks. That tells you everything you need to know about
Eric Semborski."
The Blackhawks offered to make custom goalie equipment for Semborski, complete with a personalized mask. That's why Semborski plans to build a display case for the gear he wore on the ice that day.
"It's an opportunity that I'll never forget," he said.