Feyonda Fitzgerald Excels on and off The Court
By: Courtney Kubitza
First Published: May 18, 2017
Topics: Connections, Online Exclusives, STHM School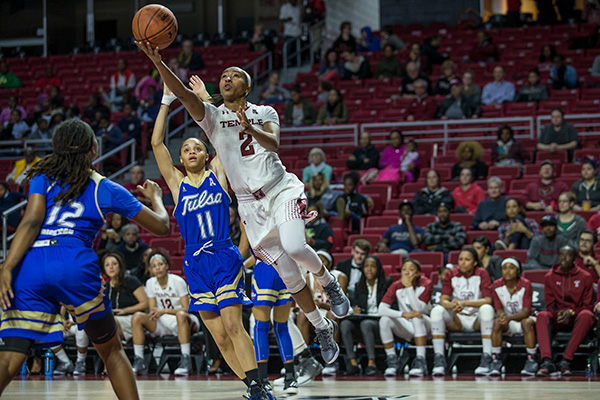 Senior Feyonda Fitzgerald is achieving points on and off the basketball court. For the first time in six years, Temple earned a bid to the 2017 NCAA Women's Basketball Tournament with a first round match-up led by guard Fitzgerald.
"To make it there, it was a great feeling and was really exciting, a lot of emotion, happiness and tears of joy because we worked hard all summer and all year long to get to that point," The School of Sport, Tourism and Hospitality Management (STHM) student said.
Unfortunately, after a record-setting season and a tough fight, Fitzgerald and her teammates lost 71-70 to Oregon in the first round of the tournament. The team finished the 2016-2017 season second in the American Athletic Conference with 24 wins. Fitzgerald averaged 17.3 points per game and in the last game of the regular season against Central Florida, she set a school and conference record with 205 assists.
Fitzgerald, born and raised in Norfolk, Va., fell in love with basketball at the age of five, and grew with the sport playing in recreational leagues, and on middle school and high school teams. The passion she has for sports, especially basketball, is also evident in the classroom as a Sport and Recreation Management major.
"Feyonda brings her game face to class every day. She has a very engaging, welcoming presence as she maintains her intensity and focus consistently," said Assistant Professor and Director of Industry Relations Richard Ridall. Ridall had Fitzgerald in two courses, including Management in Sport and Recreation and Sales Management in Sport and Recreation.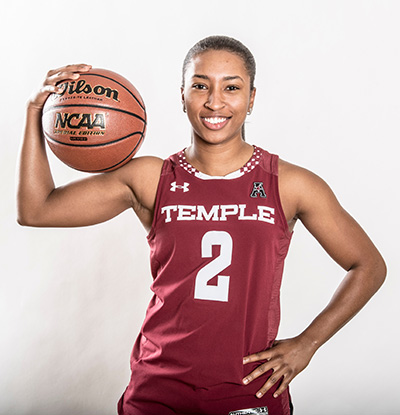 In the last two years, in the midst of basketball season and year-round workouts, Fitzgerald participated in two STHM internships. Last year, she worked with the City of Philadelphia Parks & Recreation and currently is an intern for Raheem Mapp, director of men's basketball operations at Temple
"I got to see a different side of recreation, see how the business was actually run from a higher level instead of just being in the gym all the time," Fitzgerald said.
When she arrived on campus the summer before freshman year to workout with the women's basketball team, Fitzgerald explains it was a transition period. Moving from the suburbs of Norfolk and adjusting to city-life in Philadelphia took some time. Thanks to Fitzgerald's teammates and coaches, she soon felt at home.
"They trusted me when I got here to be their point guard," Fitzgerald added. "I've progressed from freshman year to now and I feel like the team has progressed, as well. We have become a family on and off the court, we love one another, we will do whatever it takes to help each other and make sure we win a basketball game."
As Fitzgerald nears the end of college, she is focused on the future. She hopes to use the skills she learned in STHM combined with her basketball talents to play for the WNBA or abroad.