Dynamic duo
By: Jamie Cann
First Published: June 13, 2016
Topics: In the News, STHM School
Dr. Elizabeth Barber and Jeffrey Montague founded STHM from scratch. Eighteen years later, they leave behind a legacy of success.
Two decades ago, Temple University's School of Tourism and Hospitality Management was nothing more than a concept. Today, it is regarded globally as a leading provider of sport, recreation, tourism, and hospitality management education.
That's the result of the work of Dr. Elizabeth H. "Betsy" Barber and Jeffrey Montague.
The cornerstones of STHM, Barber and Montague wrote the school's original curriculum. They hired the first faculty members. They advised and taught the first students, from the undergraduate- to the doctoral-degree levels. They led embryonic marketing endeavors, and developed industry partnerships from the ground up.
At the forefront of STHM's evolution, they persevered from its modest beginnings of six faculty and 120 students in 1998, to today's School of Sport, Tourism and Hospitality Management, which features 24 faculty, 15 full-time staff members, nearly 1,000 undergraduate- and graduate-level students, an internationally recognized research center, and more than $1 million in externally funded grants and projects.
"The School of Sport, Tourism and Hospitality Management has evolved into one of the nation's largest providers of sport, tourism, hospitality, and recreation management education, and that's a direct result of the work put forth by Betsy and Jeffrey over the last 18 years," said Dr. M. Moshe Porat, Dean of STHM. "They were the engines of the school, moving it forward and helping develop a sterling international reputation for innovative teaching, renowned research, and top-tier faculty.
"STHM would not be what it is without them."
"What she's accomplished at Temple, it's monumental"
Dr. Elizabeth H. "Betsy" Barber's story begins nearly a thousand miles west of Philadelphia, in her hometown of Wapello, Iowa. The tiny town, nestled between Chicago and Des Moines, Iowa's capital city, has a population only double that of STHM's total enrollment. One of its more-notable natives is Barber's grandfather – Edwin Richley Hicklin, a former United States federal judge.
A c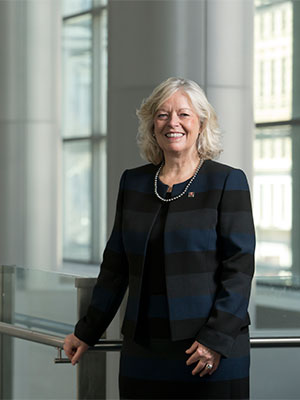 areer in teaching was always Barber's plan. But teaching tourism and hospitality management? It actually made perfect sense, she said. Barber was raised around tourism, a top-three industry in Iowa, trailing only agriculture and insurance. With outdoor attractions like the "Field of Dreams" filming location in nearby Dyersville, and Orange City's annual tulip festival, and scenic spots along the Mississippi and Iowa rivers, Iowa "has become a landmark state that you just can't skip," Barber said.
Her upbringing was incredibly diverse, a credit to the steady encouragement of her parents. In high school, Barber headed student council, was a four-sport letterwinner, played in the band, and performed in stage shows. Her parents championed education and pressed her on where she would attend college.
After earning her PhD from the University of Iowa, she began her career in higher education, teaching for two years before accepting a tenure-track position in 1989 at Temple University. She became a junior faculty member in the Department of Recreational Leisure Studies within the now-defunct College of Health, Physical Education, Recreation, and Dance (HPERD), which went by "Hyper-D".
In 1991, Barber was named the department's graduate coordinator and challenged to oversee the PhD program. A few years later, Barber began writing the curriculum for an independent program in tourism and hospitality management. With a PhD in instructional design and technology, Barber possessed the background to design courses and tailor curriculum. She affectionately recalled those experiences as "the most fun I've ever had." She turned over the curricula for Bachelor's and Master's degree programs to HPERD's dean, and then to the university's provost.
Not long after, Barber's life changed forever when then-Temple President Peter Liacouras picked up a daily newspaper.
"Our school may never have come to pass if not for Peter Liacouras," Barber said. "The story is a simple one: He was reading a newspaper article about booming industries in Philadelphia – hospitality and tourism – and he said, 'Why don't we have a program for this?'"
Liacouras commissioned a task force, comprised of university trustees, senior staff, and Barber, to determine Temple's next move. The task force recommended to Liacouras that the School of Tourism and Hospitality Management be created and, on July 1, 1998, it became the first school of its kind in Philadelphia.
"Betsy was the driving influence on that task force," said Dr. Ira Shapiro, STHM professor emeritus. "Her vision, in her words, was 'to create a powerhouse of excellence,' and she's been guiding the school ever since. Temple's motto is Perseverance Conquers, right? Well, Betsy gave her heart and soul to make this school a success. Back then, Jeffrey and I were just the cheerleaders, because she created the school, the curriculum, the Board of Visitors – she did everything."
Some things never change.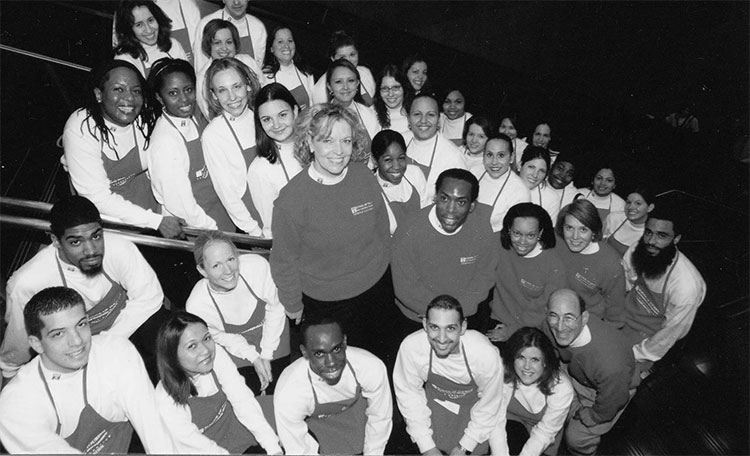 Since STHM's founding in 1998, Barber has been behind every faculty hire, curriculum redesign, and industry partnership. Her duties even spanned marketing, during those early days. The school's first campaign featured Hooter, the mascot for Temple Athletics, wearing a tank-top on a beach or on a gondola in Venice. A year later, Hooter wore a business suit in the advertisements. The goal, Barber said, was "to demonstrate that our Owls will study abroad or take internships, but eventually, they grow into business leaders who manage their respective industries." Barber remembers dispensing beach balls and Frisbees emblazoned with STHM's name to Atlantic City beachgoers, and carrying balloons as the major sponsor of the Thanksgiving Parade in Philadelphia.
"She was able to let things come to her," said Steve Korman, the founder of Korman Communities and the longtime chair of STHM's Board of Visitors. "She never forced situations. She heard your suggestions and if you had a good idea, it was incorporated. She was collaborative. She was part of a community, and that's hard to fill.
"She built the structure. It wasn't a copy of anyone else's. She did it that way not just to be the best in Philadelphia and the U.S., but to also compete globally. And she created an environment in which people felt comfortable. It's unique. It's real."
"Everything was methodical," Barber said. "There was always a plan. Nothing was haphazard. It was, 'In Year 1, we'll do this. And in Year 2, we're doing this,' and so on. The university has been tremendous in its support, and they've watched us grow and have given us the support we've needed in order to grow."
Internally, the growth to which Barber referred has revolved around the quality of students – academically skilled and professionally motivated young men and women who envision bright futures in the sport, recreation, tourism, or hospitality management industries.
And Barber was committed to stellar academic success for all students – from undergraduate to the PhD level.
"She cut me no breaks," said Mike Diorka, PhD '98, for whom Barber acted as PhD advisor. For Diorka, who now serves the University of Pennsylvania's associate athletic director of facility management, he remembers a feeling of defeat in those days. "I would walk with two shopping bags, one in each hand, on my way to the train. Those bags had my dissertation, with red ink all over them. Dr. Barber said to me, 'This is all part of the process. You'll be better off for it.' At the time, I didn't agree, but boy, was she right."
Barber's impact traveled beyond the classroom, too.
STHM announced a Summer Olympics-related study project, and Patrick Brogan, BS '04, pounced. Brogan had to negotiate with Barber in order to represent STHM in Athens, interviewing International Olympic Committee employees and working with U.S. Olympic Committee representatives.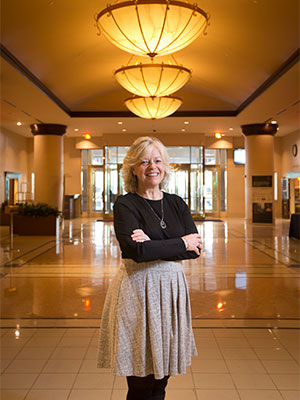 "I had graduated a day before that email came, so technically (Barber) didn't owe me anything," said Brogan, now senior vice president of programming with ArtsQuest. "And I'm so thankful she gave me a chance, because that experience was one of the signature moments of my life."
"She has the biggest heart," said Kate Isbel, BS '12, the marketing and communications coordinator for Philadelphia Convention and Visitors Bureau (PHLCVB). "You know how special Dr. Barber is? My parents went out their way to thank her on my graduation day. I feel privileged to have shared so much time with her as a student."
The stories are endless.
Barber helped establish STHM's Center for Student Professional Development. Before that, dating to the HPERD days, "her library for employment was anything that could fit on a corkboard," said Christine Cleaver, BS '96. Today an adjunct faculty member, Cleaver remembers the pre-STHM days in what was then Vivacqua Hall, where Barber juggled teaching and advising duties in a tiny corner office. "They had 150 students interning in a semester and, out of that, she saw the future. I'd use the word 'visionary' to describe Betsy Barber."
Jack Ferguson would use "inventive." In 2012, Ferguson called Barber when PHLCVB hosted a number of executives from Active America who were conducting studies into where middle-class Chinese tourists were most likely to visit. Barber, who sits on PHLCVB's Board of Directors, identified STHM's top Chinese students who could act as 1-on-1 interpreters.
"Only six years ago, China was not among Philadelphia's top 10 for international tourism. Today, China is second only to the United Kingdom," said Ferguson, PHLCVB's recently retired president. "Is that because of Betsy Barber? Well, she deserves some of the credit, because of her role all those years ago. … Overall, what she's accomplished at Temple, it's monumental."
Humbly, Barber shrugs off any public acknowledgement of or credit for STHM's progress and continued momentum. She points to the collective work by her and her peers for the rankings the school has attained, the founding of its nationally recognized Sport Industry Research Center, the scholarship opportunities she helped establish, and the innumerable corporate partnerships she fostered.
As she prepared to step down as STHM Associate Dean, she recognized that there's still work to be done. For one, Barber said she'd like to see a hotel developed on Temple's campus and utilized by STHM students as a teaching laboratory, helping create North Philadelphia's identity as a destination.
Yet there's also plenty in which she can take pride.
"I hope I'm remembered for always pushing for the school to be the best it can be, and for setting a good foundation for it to grow," she said. "I didn't do it by myself. It took a group to let Philadelphia and the rest of the world know who we were."
"I don't make friends. I make alumni."
Jeffrey Montague grew up "in the time of a segregated West Philadelphia," he said, when during his teenage years, walking home with friends from a basketball tournament was viewed by police as just cause for a streetside strip-search. Not long after, as an all-state quarterback, Montague said a math teacher told him all he'd ever be was "a dumb jock."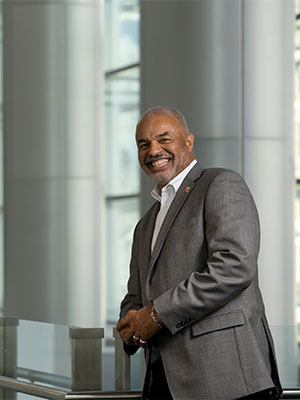 "When I'd earned my Master's and had been accepted into a PhD program, I went back and saw that teacher," Montague said. "I dropped all of my certificates and diplomas on his desk. I knew he didn't remember me, but I wanted him to know that, for all of the wrong reasons, he inspired me."
These seminal moments in Montague's early years drove him to build a life and career that focused on encouraging students to aspire to great heights, especially when told by others their dreams were unreachable.
"Growing up where I did, and being who I am today, is personal gratification for having beaten the system," he said. "I really believe the American educational system, in a way, fails people and it doesn't matter what color you are. So I made it my job to give them hope, and hope might be all you have, but it's a pretty powerful thing."
Montague has multiple vehicles for delivering hope. The primary one is STHM's Senior Professional Development Seminar, the one for which he's best known. Montague developed the course, which is better known as Senior Seminar. The school's capstone, required of all graduating seniors, provides the opportunity to experience a simulated small company environment. The class is operated just as a business would, with Montague and Rick Ridall, Assistant Professor and Director of Industry Relations, designating their students as president and CEO, among many other critical positions found in most corporations.
Montague has a special formula for selecting the ideal student for each role.
"I pick the kids who are fidgeting in their desks on their first day," he said, grinning widely. "I look in their eyes, assess their confidence level, and determine that they're scared to open their mouths. You can't manage or lead professionally if you have fear. That's why my class is a training ground for success. The students who fail are the ones who show the most progress. You're not supposed to succeed immediately, in my class or in life. It's about failing now so you avoid similar mistakes later."
Montague's prophetic words fuel stories that continue to be passed down from student to student, class to class, year to year. Like the time he set a father straight, after meeting with the parent who had entered Montague's office doggedly defending his son and had exited having finally heard both sides of the story. Or the time Montague made a student cry when he asked her to speak in front of the class. Or the time when he asked a student to get a haircut or take his hair out of cornrows if he wanted to be taken seriously.
Montague "has this mythical status about him," said Jarvis Bailey, BS '06, who has witnessed his mentor in action from the unique spectrum of both student and colleague. And Bailey, STHM's Associate Director of Student Services, has a good idea why Montague is so revered.
"I've sat back all of these years and absorbed it all like a sponge," Bailey said. "I have the same approach to students as he does. There's a reason, too. The way he sits down with students who have a difficult living arrangement, or lack of financial support or support from their family – not only has he gone through it, but I'm amazed with how quickly students open their hearts and minds to him.
"Because of that, there's this need to not let him down. That's how I feel, and it's certainly how the students feel. That's how he coined, 'Be the best.'"
Another of Montague's catchphrases is even more ubiquitous. In his Speakman Hall office, just above his desk, he had hung a small banner that read, "I don't make friends. I make alumni." As STHM began to grow, in lockstep with his and Barber's expectations for prospective students, he shared with a room of parents how a program aiming to be the nation's best needs to recruit and enroll the nation's best students. That's why, he said, he can't afford to go easy on his students.
"I started saying, 'I don't make friends…' and one of the parents started clapping," Montague said. "So from then on, the message stuck. I think parents want their kids to come to college and just be. The way I've always seen it, they can 'just be' for two years. In that third year, they better make that transition. And in the fourth year, they've got to be a nearly finished product."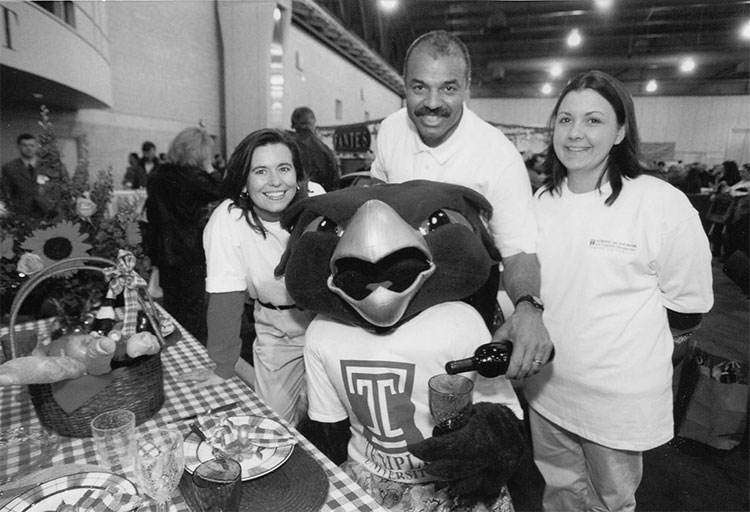 Montague's genesis with STHM was set in motion when Barber began laying the foundation for what would become STHM. Montague had served as an academic advisor within HPERD, and his background was in therapeutic recreation, a program that was shifting toward what was then Temple's College of Health Professions.
"I think he liked the newness and the trajectory of where we were headed and he decided to join us. He made a tremendous choice," Barber said. "We've been at this a long time together, and I think it's because we share a strong belief in nurturing students, and not coddling them."
For as much as Montague is perceived as a gruff, candid presence around students while they are enrolled at STHM, he has embodied a friendly, mentorship role once they have attained their degrees. Sometimes, a student doesn't even have to wait that long.
While interning at IMG Academy in Bradenton, Fla., Troy Snead, BS '13, and a handful of fellow seniors received an email from Montague that he was arranging a visit. Less than a week later, Montague had boarded a flight and was sharing lunch with Snead and his classmates.
"That says a lot about the man, doesn't it?" said Snead, an account executive with the Philadelphia 76ers. "Montague is irreplaceable. In his words, 'There's Cher. There's Madonna. And there's Montague.' He said that in a class once, as a joke, but when you hear that name, it carries clout. It means something."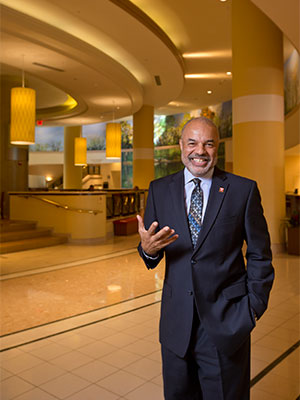 Zack James, BS '08, was working in STHM's administrative office as a senior when his father passed away. In the days and weeks that followed, James came to lean upon Montague.
"My father was clinging to life, to see me graduate," said James, the president and lead consultant of Rebel Hill Consulting. "And Montague, he knew I was distraught. He pulled me aside and gave me words on how to press on. He understands the element of human capital. He's unique – a brother, a father-figure, and a mentor all in one."
In impacting the lives of STHM students, Montague even ended up in the bridal party of one graduate. (Though reluctant, Montague eventually obliged.) His in-house legacy is evident in the line that often formed outside his office door, from the students who wished to pick his brain, to those who sought clemency, needing an administrative bailout from their various academic predicaments.
Then there were students like Danny Alotta, BS '98, who beat cancer as an undergraduate at STHM. More than once, Montague traveled to New York to sit at Alotta's bedside. And Alotta, who returned to Temple's campus last year to perform his one-man show at Mitten Hall, has never forgotten Montague's loyalty.
"I just think he has it," Alotta said. "People are blessed with different gifts. I can't describe it. Whatever it is, Montague has it, and that's what makes him so dynamic, so special."
Montague helped Colleen Connor, BS '99, make the evolution from athletics to academics. Connor arrived at STHM in 1995, but her main focus was on playing lacrosse for Temple's women's team. Test prep and homework were secondary, she said. Living away from home, and balancing the demands of being a student-athlete, Connor turned to Montague for guidance. He coached her through turning wrong decisions in life into lessons, pointed her toward professional excellence, and got her to reach beyond lacrosse.
Montague "to this day is still one of the people I call when I get a new job or when something big happens in my life," said Connor, associate vice president of events and sponsorship activation for Fast Forward Event Productions.
"That's why, to date, I know his office extension is 6297," said Anda Phan, BS '11, logistics management specialist for NAVSUP Weapon Systems Support. "And when he's not picking up, I call his cell phone number. That's the type of relationship he cultivates with his students."
"At every level," said Alotta, "there's so much appreciation for what Betsy and Jeffrey have accomplished. Ask around. What they've done is nothing short of remarkable."
The end of an era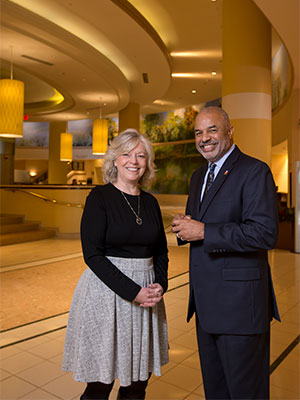 The end of the 2015-16 academic year closed out Barber's tenure as Associate Dean, a term that has spanned the 18-year existence of STHM. Two months earlier, Montague retired as the school's Associate Vice Dean, the latest in a series of titles and roles he's held since STHM's beginnings.
In a way, it's fitting that Barber and Montague simultaneously stepped away from their roles at STHM. Together, they built the school into a regional powerhouse, and a nationally and internationally recognized brand.
Barber will transition from Associate Dean into a position that allows her to retain and strengthen current industry partnerships while cultivating new ones, and returning to one of her passions – teaching in the classroom.
Montague, who retired in March as STHM's Associate Vice Dean, will stay on as an adjunct faculty member of the Senior Seminar capstone he founded.
"We're stepping away at the right time," Montague said. "It's an opportunity for the school, our programs, our faculty, and our staff grow in a different direction. Think about it this way: We have our fingerprints on everything here. In a way, that's a pretty special thing.
"But now, it's time to give someone else the keys to the car."