Denisha Robinson recipient of 2015 Beech Community Scholarship
By: Courtney Kubitza
First Published: June 22, 2015
Topics: Alumni Stories, STHM School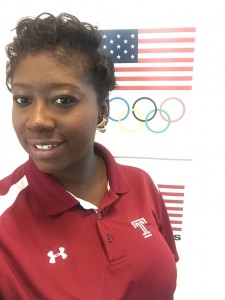 Denisha Robinson, a junior, majoring in Sport and Recreation Management, has received the 2015 Beech Community Scholarship. Applicants must meet the criteria that includes the following: an required essay, having a grade point average of 2.75 or higher, declaring a major in either Arts, Business, Engineering, Education, or Liberal Arts and are active in extra-curricular activities through their school, church, community or work.
Denisha's essay described her dedication and service to the Temple University, specifically the surrounding North Philadelphia community. As an advocate for access to education, in reference to underrepresented communities in close proximity to Temple University, Denisha plans to help provide educational experiences through sport and recreation opportunities.
This summer, Denisha participated in the United States Olympic Committee – Finding Leaders Among Minorities Everywhere (USOC F.L.A.M.E) program, in Colorado Springs, Colorado. This program was designed to increase awareness and knowledge of the U.S. Olympic and Paralympic movements. For the remainder of summer 2015, Denisha will be traveling to Australia, as a participant in a study abroad program via the University of New South Wales. There, she will learn about the sustainability and attraction of events.