Celebrating the Success of Tourism & Hospitality with National Travel & Tourism Week
By: Jamie Cann
First Published: May 11, 2018
Topics: In the News, STHM School, Tourism & Hospitality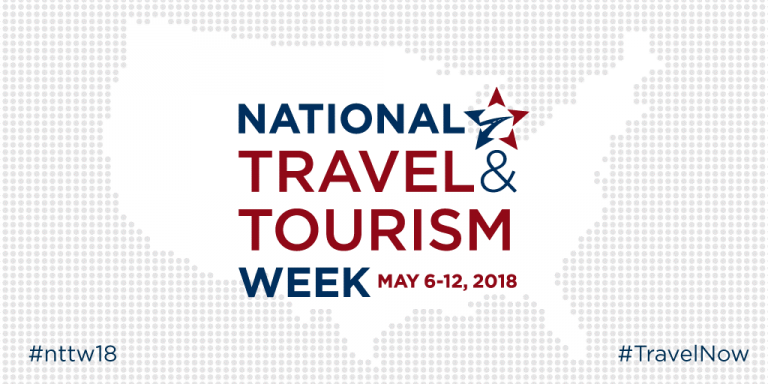 The 2018 National Travel and Tourism Week celebrates 35 years with a reflection on past success helping to inspire a future with more income, jobs and opportunity.
National Travel and Tourism Week (NTTW) is an annual tradition celebrating the contributions and accomplishments of the travel, tourism and hospitality industries. This year marks the 35th anniversary of its establishment and to commemorate this milestone, NTTW showcased the success of the industry over the last three and a half decades with a special Then and Now retrospective. This allows the industry to reflect on achievements of the past and also advocating for policies that promote future growth. All U.S. destinations have unique stories to tell regarding offerings that keeps visitors returning and it greatly helps to illustrate the positive affect the industry has on the economy to government leaders.
In the last 35 years, tourism and travel has proven to be a powerful market. Travel generates more than $2.4 trillion for the U.S. economy and is America's second-largest industry export. Tax revenue collected from travel spending for federal, state and local governments totaled $164.8 billion in 2017 and is one of the biggest contributors to the U.S. job market. In fact, travel and tourism is the 7th-largest employer supporting more than 15.6 million jobs. It's also one of the higher-earning markets with 40% of Americans who began a tourism and travel career make $100,000+ annually.
Philadelphia plays a big role in these numbers with hospitality being the city's 4th-largest employer and as summer approaches, jobs are on the rise. The influx of tourists visiting the city means a unilateral boost including tour operators, pop-up restaurants and beer gardens, festivals, live concerts and cab drivers. According to the Bureau of Labor Statistics, the Philadelphia metropolitan area accounts for 265,900 hospitality jobs and Philadelphia County supporting 73,000.
Since NTTW is the official kick-off for travel season in the Greater Philadelphia area, Temple Unversity's  School of Sport, Tourism and Hospitality Management (STHM) had big plans for this year's event. In addition to this being the 35th year of NTTW, 2018 marks the 20th anniversary of STHM leading to a collaboration some of the biggest influencers in Philly travel including PHLCVB, Independence Visitor Center, Greater Philadelphia Hotel Association, Visit Philadelphia, Visit Bucks County and Valley Forge Visitors Bureau. Each day of NTTW included fun and exciting interactive events such as a photo walk, golf outing, a special members reception and even a Phillies game!
NTTW also fell on the same week as the STHM graduation ceremony. It's more than fitting that STHM ushered in a new generation of industry professionals during a week that celebrates the industry as a whole. Congratulations class of 2018! Here's to 35 years of NTTW, 20 years of STHM and a bright, exciting future of the travel and tourism industry ahead.