Army-Navy Game to Bring Big Business to Philadelphia this Weekend
By: Steve Orbanek
First Published: December 12, 2019
Topics: In the News, Sport, STHM School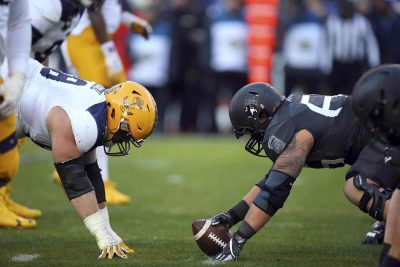 Associate dean of the School of Sport, Tourism and Hospitality Management available to discuss economic impact of storied rivalry.
PHILADELPHIA—There are college football games, and then there's the Army-Navy Game. This one's a big one.
"There's just something about the tradition behind the Army-Navy game that makes it so special," says Jeremy Jordan, associate dean of the School of Sport, Tourism and Hospitality Management at Temple University.
On Saturday, Philadelphia will host the contest for the 89th time in its 120-year history. To say that this is a big-ticket event is an understatement.
More than 70,000 spectators are expected to fill Lincoln Financial Field. As of Wednesday afternoon, the cheapest ticket available on the Stubhub ticket exchange and resale website was nearly $170. The most expensive? Try $21,850, which will get you a seat in a luxury club suite.
Part of Jordan's research examines the economic impact of sporting events, and it does not get much bigger than the Army-Navy game. According to the Philadelphia Convention and Visitors Bureau, more than 25,000 hotel rooms are expected to be filled as 50,000 visitors descend upon Philadelphia to take in the game.
The overall economic impact should exceed $30 million.
"When we talk about event-level football games and their economic impact, we're conditioned to think of things like the Rose Bowl or the Super Bowl, but don't undersell the Army-Navy game," Jordan says. "There's a reason that Philadelphia continues to host this game year after year, and it's because it's that important to the city."
This marks the second-straight year that Philadelphia has hosted the contest. The city will again host the game in 2020 before it heads to Metlife Stadium in East Rutherford, New Jersey, in 2021. The Army-Navy game will return to Lincoln Financial Field in 2022.
About the School of Sport, Tourism and Hospitality Management
Established in 1998, the School of Sport, Tourism and Hospitality Management (STHM) at Temple University has a distinguished tradition preparing leaders in the sport, recreation, tourism and hospitality industries.
Thoroughly committed to providing student-centered education and professional development relevant to today's thriving sport, tourism and hospitality industry — STHM integrates applicable, real-world experience into the curriculum and classroom through its global network of industry partners and well-connected alumni network. Our award-winning faculty and cutting-edge research institutes engage in pioneering research, informing business practices and providing students with the knowledge and skills to succeed in these fast-growing industries.
The School offers undergraduate degree programs in sport and recreation management and tourism and hospitality management; traditional graduate degree programs in sport business, and hospitality management; and two online graduate degree programs in executive sport business and travel and tourism. STHM also offers a PhD program in business administration with a concentration in tourism and sport.