Andrea Daniels '03 Recaps STHM's Role in Career with InterContinental Hotels Group
By: Courtney Kubitza
First Published: May 18, 2017
Topics: Connections, Online Exclusives, STHM School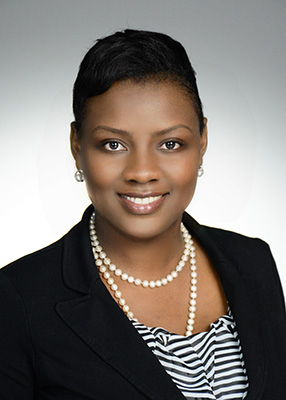 In 1999, Andrea Daniels '03 arrived at Temple University as a freshman uncertain of her major. After a meeting with retired Associate Vice Dean Jeffrey Montague, Daniels decided to pursue a major in The School of Sport, Tourism and Hospitality Management (STHM) and has never looked back.
Today living in Atlanta with her husband and three children, Daniels still finds value in the skills she learned at STHM working as director of Distribution Strategy with InterContinental Hotels Group (IHG).
What are your roles and responsibilities at IHG?
Overall, my team has global responsibility for managing Third Party Intermediaries. I head up the America's region and have global responsibility for business development, account and client relationship management, developing strategy around distribution, and leading a team of talented managers.
What is a typical day of work like for you?
The beauty of my job is that there are no typical days. One of the things that I regret not doing in college was taking the time to study aboard; it would have been great to experience hospitality and tourism on a global scale while in college. A great benefit of working for IHG is that is a global company. When I am not traveling for work, I do have the pleasure of experiencing the world on leisure and staying at some of our great hotels around the world.
How long have you worked for IHG and what roles have you held with the company?
I recently celebrated my 12-year anniversary as a full-time employee with IHG and I have had the unique opportunity to experience a variety of roles within the company. I started as a market analyst in 2005 and I spent time as a program manager, web marketing performance manager and campaign manager, eventually moving to Distribution Strategy in 2010 serving first as a manager.
Are there any courses that were significant when you were an undergraduate?
There is not really one specific class, but I would say the entire training at Temple was something I enjoyed and appreciated. I remember my experience vividly, especially in Senior Seminar. Senior Seminar created that sense of part school and real world environment, where you knew you were preparing yourself for something greater, such as how to dress for success, how to prepare for an interview, and planning for the future.
How do you think your experience at STHM shaped your career?
I majored in Tourism and Hospitality Management and I had two different internships that really put me on this path. The first one was as a junior with the Ritz Carlton Hotel in Philadelphia where I worked in Sales and Catering. My second internship was as a senior and I actually interned at IHG. This internship paved the way for my interest in the corporate side of hospitality. I graduated from college, and went on to work for BCD Travel as an account manager, which I truly enjoyed and later was able to pull from this experience. After about a year, I applied for a position at IHG and moved back to work with IHG in a different capacity.
I think just from what I learned at STHM, a lot of it transitioned into my daily life, my work life and I have to give credit to Jeffrey Montague, who has been a great mentor. I know he really talked to us a lot about what you should do before and after graduation, your interests – whether it was dressing for your interview or trying to figure out what you really wanted to do years from now. I have always kept that in mind when I was looking for positions or where I wanted to work. I think the values from STHM and the values at IHG, were a perfect fit for me and truly made a different in my career today.
Do you have any advice for future STHM graduates looking to start or switch careers?
I would say start as early as you can and begin to find out what you want to do. If you can't figure out what you want at least figure out what you don't want to do. Take pride in your internships and network, network, network. You cannot network too much. It is important even for me and I try to network as much as I can. Focus on building relationships and really making every impression count, not just the first one.