Alumnus Tim Nolan oversees the establishment of AKA University City
By: Jamie Cann
First Published: May 18, 2017
Topics: Alumni Stories, Connections, STHM School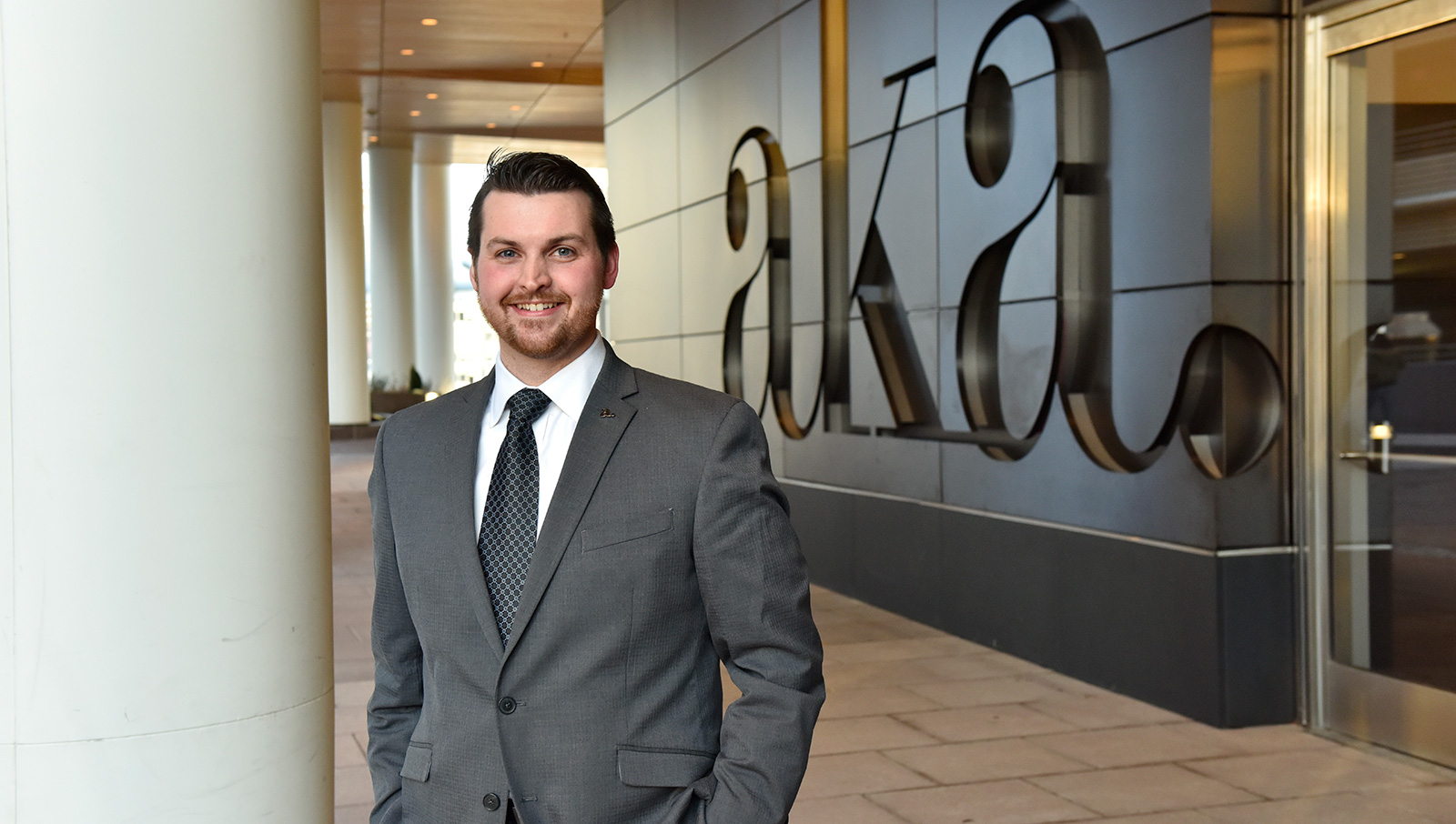 Timothy Nolan, Assistant General Manger of AKA University City, began his career with AKA Rittenhouse Square as part of his senior internship for the School
of Sport, Tourism and Hospitality Management (STHM) at Temple University. The AKA brand offers luxury extended stay apartments with hotel services in major cities world-wide.
Upon graduating with his bachelor of science in Tourism and Hospitality Management, Timothy transitioned into a full-time position at the property. Most recently, Timothy had the opportunity to oversee the preparation and establishment of AKA's newest property— AKA University City.
Learn more about Timothy's experiences in the Q&A below:
Tell us about your current role as the Assistant General Manager of AKA University City.
Obtaining the role as Assistant General Manager of AKA University City was a very unique and exciting opportunity. I was able to be a part of the evolution of the University City property from the early planning stages through the completion of construction.
Now that we have officially opened our doors, my role has shifted to assume more traditional responsibilities aligned with ensuring our guests and residents are offered the best possible experience. On the business side of things, some of the main functions I am responsible for include accounting, handling guest concerns, billing errors, and credit card disputes. I also support guest services, sales, housekeeping, and maintenance departments to ensure they accomplish human resource objectives and initiatives including orientation, training, scheduling, and coaching. Additionally, I work to successfully manage our on-site team to achieve performance goals and work with the sales team to create relationships with corporate clients and establish accounts.
What industry trend excites you and why?
When people travel, they want to be interconnected with those in the community. They want to taste the cuisine of the region and be immersed in the culture of a given neighborhood. I love that people are traveling with the purpose of understanding the way another city or another part of the world lives.
Similarly, we've seen the rise of communal space- where guests and residents enjoy interacting with those around them. AKA University City's Level 28 is one example of a shared space, centered around amenities, where people can connect and spend time with their neighbors. It really helps to accomplish what AKA tries to offer—a home away from home.
What has been your biggest challenge within your career in the hospitality industry?
By far the biggest challenge in my career has been taking on the opening of the AKA University City. I started my career in AKA Rittenhouse Square after graduating and stayed in this location for 8 years. It was a well-established location and the roles and responsibilities were very much aligned with what I had learned at STHM.
In my transition to AKA University City, I was exposed to many challenges in industries including construction, design, marketing, and architecture. I had to think critically and make real-time decisions in areas where I did not have a great deal of involvement. It really broadened my experience and I was able to learn so much and grow both personally and professionally.
How has STHM prepared you for success in the tourism and hospitality industry?
The STHM coursework and curriculum provided me with a solid foundation of the industry and how it operates. However, what I found to be most valuable, was the preparation for various corporate social settings. I learned how to conduct myself in meetings, how to dress for an interview, and the professional standards that are not taught in a text book. This is what sets STHM apart—taking their students and making them network. It offers opportunities and interactions that a typical business program does not.
What advice would you give to someone entering the industry?
I would tell anyone entering the industry don't get discouraged. There are going to plenty of instances where you want something— whether it
be a new position or a chance to go somewhere, that you may not get. However, an even better opportunity will come along and you will realize that there was a reason that you didn't get the opportunity you wanted. Things will work out —you can't rush it. Continue to trust in yourself and your abilities, and you will succeed.