STHM Students Learn from Three Fall Visits from Executives in Residence
By: Allison Rooney
First Published: February 21, 2020
Topics: Alumni, Industry Partnerships, STHM School, Tourism & Hospitality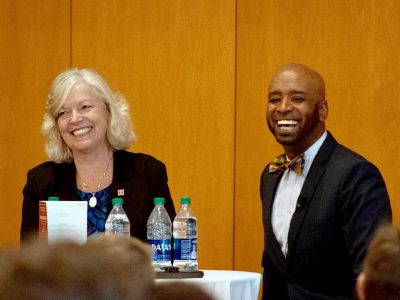 Each year, Temple University's School of Sport, Tourism and Hospitality Management (STHM) is privileged to host executives and industry leaders in what it calls its Executive in Residence program. These individuals visit campus to share their accomplishments and provide practical strategies for success. The beneficiaries are the STHM students, who gain insight on how their academic experiences can lead to professional success.
Here we offer an overview of the five Executives in Residence who took part in fall 2019 series.
October 10: Steve Mayers, Airport Director–Customer Experience, ADA and Title VI Coordinator, Hartsfield-Jackson Atlanta International Airport (ATL)
Certified Hotel Administrator (CHA) Steve Mayers is a successful innovator in a unique position that crosses boundaries between tourism and hospitality. An STHM alumni, he has held leadership roles at Sandals Resorts, Radisson and Best Western Hotels and Resorts. He shared many of his philosophies and strategies during an interview with Betsy Barber, STHM professor and executive director of business development and partnerships.
"We manage the world's busiest and most-efficient airport," Mayers said, "and ensure the customer service experience for more than 100 million passengers." How? He treats each one as a guest, tending to every detail from when they enter the lobby to arriving at their gate. First and foremost, Mayers believes in investing in his staff. "Employees and customers are at the same level," he said, "and accordingly, I give them equal treatment."
In addition to sharing strategic priorities he builds on every day, Mayers offered advice to STHM's future leaders. "Ask how you're distinguishing yourself. It's about your reputation and how you play the game," he said. "Take a chance, listen with purpose and be sure to travel."
At an October ceremony, Temple honored Mayers as a member of the University's Gallery of Success, representing the School of Sport, Tourism and Hospitality Management for his outstanding professional achievement, the inspiring role he plays to students and bringing honor to the institution.
October 21st: Wayne Kimmel, Managing Partner, SeventySix Capital
Wayne Kimmel is an energetic speaker, which suits his role as an investor at the junction of the thriving industries of sports and technology. His firm, SeventySix Capital, focuses on early stage venture capital in sports digitalization, e-sports, sports betting and the sports-consumer experience in general.
From sales strategy and the essential role of branding yourself, Kimmel has many lessons to share. His book, The Six Degrees of Wayne Kimmel, has made him a desirable keynote speaker. He considers it a roadmap to success, with the practical details behind his own trajectory, always stepping outside his comfort zone to strike the many business deals that made him what he is today. One aspect that sets Kimmel and his partners apart is their insistence on doing business only with people who are nice as well as smart—a high standard for any industry.
Kimmel and his firm hosted the Sport Technology Innovation conference in Philadelphia in November 2019. This day-long event at Citizens Bank Park allowed more than 20 STHM students to gain experience and take advantage of extensive networking opportunities—showing once again that Kimmel is always looking for ways to bring value back to Temple's young aspiring professionals.
November 5: Event Leadership in Philadelphia
This Executive in Residence panel brought together three leaders who shared insights about managing events in Philadelphia.
Michael DelBene, President and CEO of Welcome America, Inc.
Since January 2019, DelBene has run the nonprofit Welcome America, which attracts hundreds of thousands of visitors from all over the world for a series of events during the week of Independence Day. In addition to contributing to development efforts at the National Constitution Center, DelBene has served as vice president of business development at the Mann Center for the Performing Arts as well as vice president for community affairs for Wells Fargo. He ensures that all aspects of Welcome America focus on the nation's history as well as culture and community service. During the panel, he emphasized the critical process of continually learning and re-assessing from and during each event. "Plans are for nothing, but planning is everything," said DelBene. He spoke of the importance of modeling specific scenarios and continually practicing exercises that guarantee visitor safety as well as enjoyment.
Kelvin Moore, General Manager of the Pennsylvania Convention Center and Regional General Manager of ASM Global
Moore has a wealth of experience with leadership positions at SeaWorld as well as a handful of convention centers around the country, including Phoenix, Chicago and San Antonio as well as Overland Park, Kan.; Jackson, Miss.; and Richmond, Va. Specializing in operational turnarounds, he spoke on the panel about using client-friendly management strategies to realign sales and services as he oversees the convention center's more than 200 events a year. "Convention centers may have been created as non-profit, but nonetheless they have a powerful economic impact on every city," said Moore, "Our broader responsibility is always making sure our attendees have a fantastic time."
Jazelle Jones, Deputy Managing Director of the City of Philadelphia Office of Special Events
A 14-year veteran City administrator who oversees many events annually, Jones was formerly the Director of Operations for the City of Philadelphia. She is a Commissioner for the Pennsylvania Women's Commission and an appointee of the Court of Judicial Discipline. She has received the Governor's Award for Local Government Excellence, the American Red Cross Humanitarian Award, the Mayor's MVP Award, and the NAACP National Voter Fund Award.
During the panel, Jones touched on the impact of partnering on large-scale events with national organizations like the NFL or DNC. "If managed correctly, these can have a massive impact on a city and drive tourism for years to come." She cited a study of the 2017 NFL Draft—co-authored by STHM's Sport Industry Research Center—which revealed that visitors hailed from 42 states, 62 percent of whom planned to return for a vacation within a year.
On display at each of the three events were the passion and the commitment that each executive-in-residence brings to their role. Students are privileged to have these face-to-face encounters with leaders of this caliber and were also clearly inspired to make use of the many lessons and insights they shared.