Behind the Scenes: Bachelor's in Event & Entertainment Management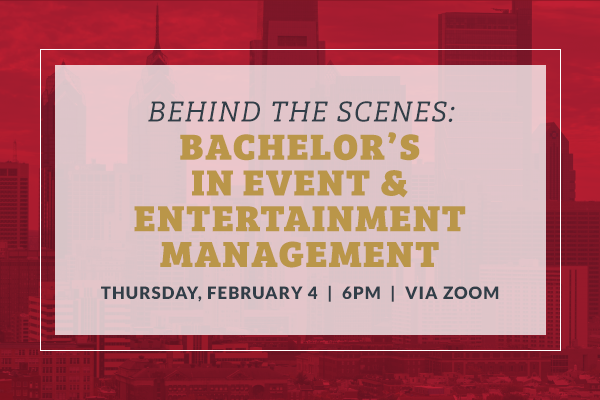 Event Details:
6:00 PM EDT (GMT -4)
Thursday, February 4, 2021
Ideal for Prospective Undergraduate Students, Industry Partners, Alumni, High School Counselors, Community College Counselors, Parents
Join the School of Sport, Tourism and Hospitality Management (STHM) to learn about the new Bachelor of Science in Event and Entertainment Management launching in Fall 2021. The Bachelor of Science in Event and Entertainment Management will equip students with a business-oriented skill set and prepare them to successfully manage a wide variety of events including fairs, festivals, entertainment and sporting events, meetings and trade shows.
During this event, you will have an opportunity to:
Learn about the program including student learning outcomes.
Hear from a panel of event and entertainment professionals on the future of the industries and how they are shifting. Panelists will include:

Bonnie Grant, Executive Director, PHL Life Sciences, Philadelphia Convention and Visitors Bureau 

Hannah Mullen, Exhibit Manager, Pennsylvania Horticulture Society, The Philadelphia Flower Show 

Carl Taylor, Founder and President, CTS AVL
This event is intended for anyone interested in learning about the Bachelor of Science in Event and Entertainment Management—whether you are a prospective student interested in applying, an industry partner wanting to learn how our students are being prepared for the future of the industries, or a counselor looking to learn about new opportunities for students. Can't make the event but want to learn more? Get in touch with our admissions team today.
Register Now